Bob Dylan 2023 Never Ending Tour
Not Fade Away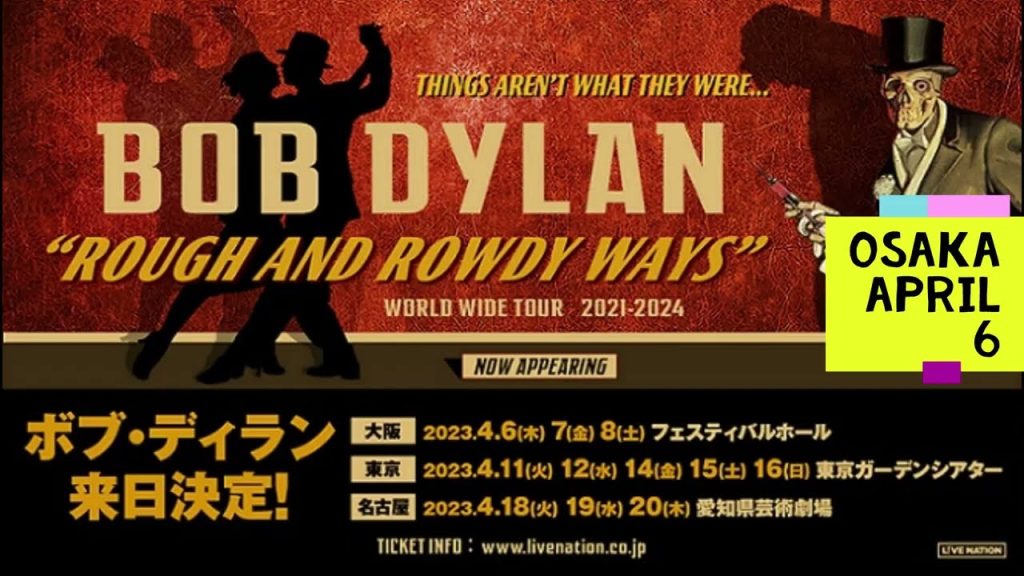 Tourband
Bob Dylan: kleine vleugelpiano
Tony Garnier: contrabas, basgitaar
Jerry Pentecost: drums
Bob Britt: gitaar
Doug Lancio: leadgitaar
Donnie Herron: viool, elektrisch mandoline, pedal steel & lap steel gitaar, altviool
Op 7 juni 2023 maakte Bob Dylan een 35 jaar lange, vrijwel aaneengesloten periode van optreden vol. In Madrid speelde hij volgens Olof's Files die avond zijn 3141e concert van die tot Never Ending Tour gedoopte periode. De 82-jarige Dylan is na 7 juni 1988 niet meer van zins geweest met optreden te stoppen. De huidige Rough and Rowdy Ways World Wide Tour staat tot en met 2024 geprogrammeerd.
Toch was het voor de mogelijk blinde en dove recensent van NRC vorig jaar na de optredens van Bob Dylan in Amsterdam volstrekt duidelijk: dit was na meer dan zestig dienstjaren de laatste stuiptrekking van de Amerikaan. Waar soortgelijke concerten in de weken erna in het Verenigd Koninkrijk werden bejubeld, was deze persoon de strengste van de vrij zure Nederlandse pers.
Dat het einde van Dylan in zicht is, horen we al sinds de jaren zestig met grote regelmaat. Altijd was buiten de meester zelf gerekend. Dus toog de steeds fragieler ogende Dylan dit voorjaar naar Japan voor 11 concerten, om daar de aankondiging van een uitgebreide Zuid-Europese rondrit van 25 optredens op te laten volgen. Eén wijziging in de bandbezetting, nadat in 2021 al beide gitaristen waren vervangen: op drums en percussie loste Jerry Pentecost Charlie Drayton af.
Wat opbouw van de concerten betreft was er in vergelijking met vorig jaar aanvankelijk niets nieuws onder de (Japanse) zon. Wel was binnen de ongewijzigde, zwaar op de laatste plaat Rough and Rowdy Ways leunende speellijst weer flink gesleuteld aan de arrangementen. Tot in Tokyo de veel gespeelde cover That Old Black Magic week voor de Grateful Dead-klassieker Truckin', een nummer waaraan Dylan een essay wijdde in zijn laatste boek, The Philosophy of Modern Song. Daarop volgden in het verdere verloop van de korte tour twee andere livedebuten: Brokedown Palace (Gratefull Dead) en Only A River (Bob Weir en Josh Ritter). Ook het al eerder door Dylan gespeelde Not Fade Away dook op, mogelijk als sneer naar zijn critici.
Plaats 14 van de 17 liedjes omvangende speellijst (géén toegiften) bleef ook in Portugal, Spanje, Frankrijk, Zwitserland en Italië aan incidentele verandering onderhevig. Zo bracht Alicante de primeur van de Van Morrison-klassieker Into the Mystic en speelde hij in Barcelona en Aix-en-Provence respectievelijk de Grateful Dead-titels Stella Blue en West LA Fadeway. In Montreux en Milaan werd het publiek verrast met Bad Actor van Herle Haggard. De setlist was inmiddels opgerekt naar achttien nummers, waarvan twee wisselend.
De standaard speellijst: 1. Watching The River Flow;  2. Most Likely You Go Your Way (and I'll Go Mine); 3. I Contain Multitudes; 4. False Prophet; 5. When I Paint My Masterpiece; 6. Black Rider; 7. My Own Version of You; 8. I'll Be Your Baby Tonight; -Band introductie- 9. Crossing The Rubicon; 10. To Be Alone With You; 11. Key West (Philosopher Pirate); 12. Gotta Serve Somebody; 13. I've Made Up My Mind To Give Myself To You; 14. That Old Black Magic; 15. Mother of Muses; 16. Goodbye Jimmy Reed; 17. Every Grain of Sand.
Voor Dylan in het najaar begint aan een concertreeks in Noord Amerika duikt hij op 23 september op bij Farm Aid voor een verrassingsoptreden met The Heartbreakers. Tijdens het eerste Farm Aid festival in 1985 -een idee van Dylan uitgevoerd door Willie Nelson en Neil Young- treedt Dylan op met Tom Petty en The Heartbreakers. Dylan, zittend op een stoel met gitaar, speelt drie oudjes: Maggie's Farm, Positively 4th Street en Ballad of a Thin Man.
2023 * * * * * * * * * * 36 shows (Farm Aid included), 28 different songs played. 6 live debuts; 9 covers played.
Date
Venue
Title
No of Disks
Label/Source
Sound
Art/setlist/info
2023-04-07
Osaka
Osaka Festival Hall
Flac
Spot LB-15752
B+
Standard setlist
2023-04-20
Nagoya
Aichi Prefectural Arts Theater
Flac
Spot LB-15764
A-
Standard setlist +Truckin' & live debut Only A River.
2023-06-07
Madrid
Noches del Botanico
Flac
Spot LB-15799
A-
Standard setlist + Not Fade Away. Outdoors rainy show.
2023-06-13
Granada
Teatro del Generalife
Flac
Nightly moth, remastered by Bennyboy LB-15804
A
Standard setlist
2023-06-15
Alicante
Plaza de toros
Flac
theVygi LB-15806
A-
Standard setlist + Into the Mystic
2023-06-27
Aix-en-Provence
Arena du Pays d'Aix
Flac
soomlos
A
- Standard setlist + West LA Fadeaway
2023-09-23
Noblesville, IN Ruoff Music Center
Farm Aid
Flac
ironchef
B+
Surprise performance. Dylan plays three oldies on the guitar (sitting on a chair) with The Heartbreakers.