Bob Dylan 2023 Never Ending Tour
Not Fade Away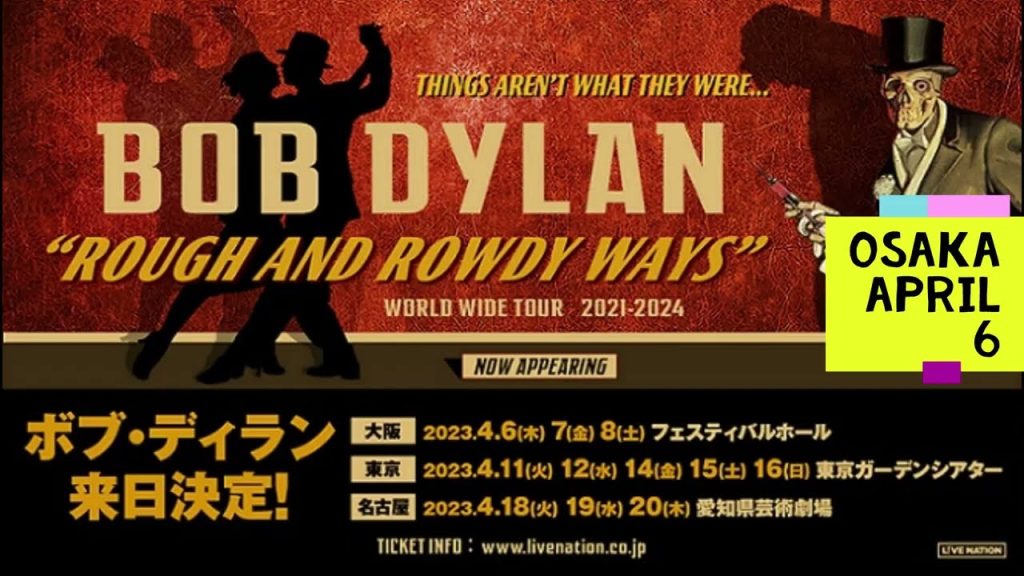 Tourband
Bob Dylan: kleine vleugelpiano
Tony Garnier: contrabas, basgitaar
Jerry Pentecost: drums
Bob Britt: gitaar
Doug Lancio: leadgitaar
Donnie Herron: viool, elektrisch mandoline, pedal steel & lap steel gitaar, altvioool
Voor de recensent van NRC was het vorig jaar na de optredens van Bob Dylan in Amsterdam volstrekt duidelijk: dit was na meer dan zestig dienstjaren de laatste tour van de Amerikaan. Waar soortgelijke concerten in de weken erna in het Verenigd Koninkrijk werden bejubeld, was deze persoon de strengste van de vrij zure Nederlandse pers.
Dat het einde van Dylan in zicht is, horen we al sinds de jaren zestig met grote regelmaat. Altijd was buiten de meester zelf gerekend. Voor de NRC-scribent was een blik op de touraffiche geen overbodige luxe geweest. Daar staat duidelijk: "Rough and Rowdy Ways" World Wide Tour/2021-2024.
Dus toog de steeds fragieler ogende Dylan dit voorjaar vrolijk naar Japan voor 11 concerten, om daar de aankondiging van een uitgebreide Zuid-Europese rondrit langs 25 podia op te laten volgen. Eén wijziging in de bandbezetting, nadat in 2021 al beide gitaristen waren vervangen: op drums en percussie loste Jerry Pentecost Charlie Drayton af.
Wat opbouw van de concerten betreft was er in vergelijking met vorig jaar aanvankelijk niets nieuws onder de Japanse zon. Wel was binnen de ongewijzigde, zwaar op de laatste plaat Rough and Rowdy Ways leunende speellijst weer druk gesleuteld aan de arrangementen. Tot in Tokyo de veelgespeelde cover That Old Black Magic was geweken voor de Grateful Dead-klassieker Truckin', een nummer waaraan Dylan een essay wijdde in zijn laatste boek, The Philosophy of Modern Song. Daarop volgden in het verdere verloop van de korte tour twee andere livedebuten: Brokedown Palace (Gratefull Dead) en Only A River (Bob Weir en Josh Ritter). Ook het al eerder door Dylan gespeelde Not Fade Away dook op, mogelijk als verwijzing naar zijn eigen niet aflatende vernieuwingsdrang.
De standaard speellijst: 1. Watching The River Flow; 2. Most Likely You Go Your Way (and I'll Go Mine); 3. I Contain Multitudes; 4. False Prophet; 5. When I Paint My Masterpiece; 6. Black Rider; 7. My Own Version of You; 8. I'll Be Your Baby Tonight; -Band introductie- 9. Crossing The Rubicon; 10. To Be Alone With You; 11. Key West(Philosopher Pirate); 12. Gotta Serve Somebody; 13. I've Made Up My Mind To Give Myself To You; 14. That Old Black Magic; 15. Mother of Muses; 16. Goodbye Jimmy Reed; 17. Every Grain of Sand.